Shopping Cart
Your Cart is Empty
There was an error with PayPal
Click here to try again
Thank you for your business!
You should be receiving an order confirmation from Paypal shortly.
Exit Shopping Cart
Running Tip of the Week: 
Here are some some tips to help you stay safe during early morning and night runs especially during the Fall & Winter months:
See & be seen: Wearing a headlamp can help you see potholes and uneven pavement more easily and prevent injuries. Wearing a tail light, reflective vest, bright colored clothing and shoes with reflectors on them will help make you more visible.
Choose a well-lit route. It might not be your favorite route to run, but the most well-lit, populated route is your safest choice. Oncoming cars see you better, and you'll always be able to see the road and avoid potential hazards.
Run against traffic. It's easier to avoid cars if you can see them coming. Don't run on busy streets and those without shoulders or sidewalks.
Don't forgot to stay hydrated and drink liquids at least 2 hours before and 2 hours after a run.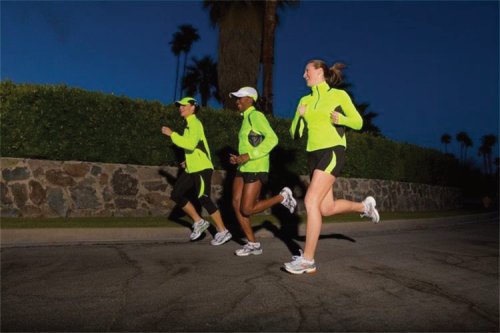 Watch Coach Jeff's "Tip of the Week" 
video for Running in the Fall on Facebook at:
Click here
https://m.facebook.com/CarlsbadRunningLab/
#RunningTip #Training #Running #Fitness #Marathon #HalfMarathon #Triathalon #SwimBikeRun #NewtonRunning #RunningCoach #LaMarathon #Carlsbad #SanDiego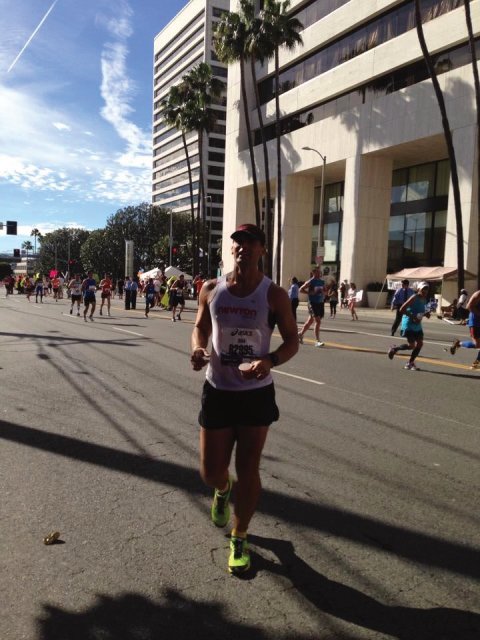 What a beautiful day to run a marathon. The atmosphere was awesome! 
I would like to give my followers a recap of my 2014 L.A. Marathon experience. 
I woke up the day of the marathon feeling super relaxed and legs feeling great. I knew it was going to be a great race. I started my usual race prep. I was actually warming up near the elite Ethiopian men and women runners. I found that their warm-up prep was similar to mine. 
The race was starting soon so I made my way over to the start line. At this point, I'm still very relaxed and feeling confident. The gun sounds off at 7:25 a.m and the marathon begins. I started out at an even pace and remained relaxed. I ran through mile 1 through 20.5 at seven minutes' pace and was feeling great. 
I started noticing a piercing sensation just below my ribcage that gradually worsened. Once I got to mile twenty-one, I could no longer run. I felt so helpless. I felt so disappointed in myself. I had all the endurance in the world and my legs where still strong. I planned and trained so hard for this race. Many runners were starting to pass me up. I knew at this point, I wasn't going to reach my goal of running sub three hours. I decided to divert to Plan B, which was to simply finish the race and try not to injure myself. I ended up finishing the race at 3:38. 
Runners - please understand that sometimes you can plan for a race and totally prepare for it but the unexpected happens. 
Remember to always have a Plan B and forget about finishing up the race if you need to. It's not worth the risk of sustaining serious injury. Instead, you should set your sights on completing your next race or run. I already have my sights set on my next marathon. See you at the
Rock & Roll - San Diego
on Sunday, June 1st, 2014! 
~ Coach Jeff
#runningcoach #endurancetraining #marathon #halfmarathon #running #coaching #LAmarathon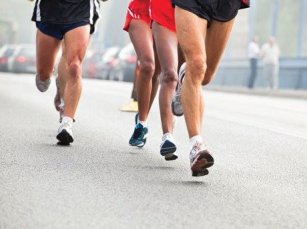 Runners should train as athletes. 
The best athletes in the world never show up to the big game without being prepared; running is no different. 
Runners should practice proper technique to reduce the chance of injury and perform when it matters the most.
#runningcoach #endurancetraining #marathon #halfmarathon #running #coaching
Many runners ask "how can I become a better runner?" 
Here is the answer: breathe and have fun.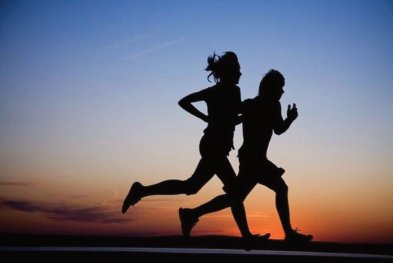 Many runners have information overload. I believe this is the reason why most runners either hurt themselves while
running
or never reach their full running potential. Runners need to do less reading and researching on running and focus their energy on running instead.
Runners simply need to run. 
Runners should get back to the fundamentals of running - breathing and having fun. These fundamentals will unlock the athlete in you.
~ Coach Jeff
#runningcoach #endurancetraining #marathon #halfmarathon #running #coaching
Running Tip of the Week:
PCR (
Progress Calibration Run
): Steady state run at preset heart rate. Run steadily and evenly at race pace but don't sprint at the end as you typically would in a race. This is harder to do than your "Out-and-Back" run. 
If you're not confident on maintaining an even pace, consider using a HR monitor and check your heart rate at regular intervals to measure your progress, as well as ensuring you're not over-exerting yourself.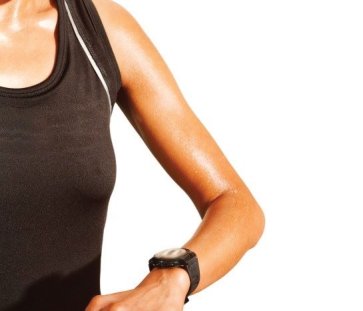 Avoid Making These Common Mistakes:
Focusing on time rather than appropriate effort.
Going beyond your Target Heart Rate and/or RPE to prove to yourself that you're faster than last week.
#runningcoach #endurancetraining #marathon #halfmarathon #running #coaching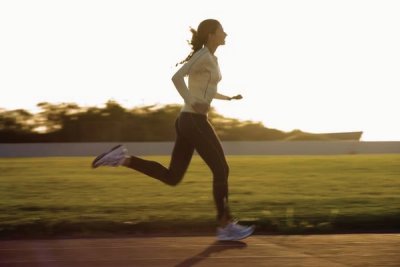 What is a Fartlek? 
Fartlek, a Swedish term that means "speed play" is a form of interval or speed training that can be effective in improving a runner's speed and endurance. 
Since a runner can make it up as they go, there is no pressure to perform and the runner can work it as hard or as easy as they like.
The suggested pace given on the program is the runner's own average pace. 
The runner should speed up and slow down according to how they feel, not by any set pace.
Many runners use 
fartlek running
 as speed "work" rather than speed "play."  Either way, varying your speed at irregular intervals will help build your endurance and improve your running speed.
Give it a try!
#runningcoach #endurancetraining #marathon #halfmarathon #running #coaching
Running Tip of the Week:
Adding a recovery jog or two to your running training program or fitness routine will help your recover faster by flushing lactic acid from your body. Jogging should be done after a long run or hard training session; just 20 to 30 minutes will do. 
Jogging really helps runners to recover better, develop their aerobic capacity and helps them to loosen up.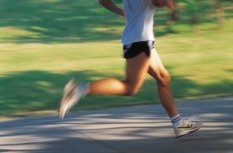 #runningcoach #endurancetraining #marathon #halfmarathon #running #coaching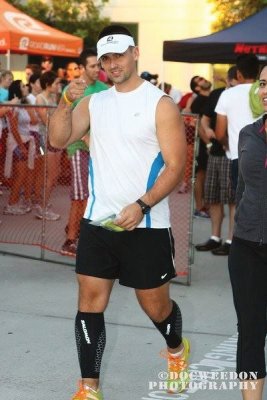 Running Tip of the Week: 
Aerobic running is running at a comfortable pace (not jogging) for the duration of time. Runners should be able to converse. Biggest mistakes are starting out too fast, running too hard and tapping into
anaerobic metabolism
 and clock-watching and pushing the pace to arrive at a pre-set idea of what it should be rather than allowing it to come naturally.
#runningcoach #endurancetraining #marathon #halfmarathon #running #coaching
/